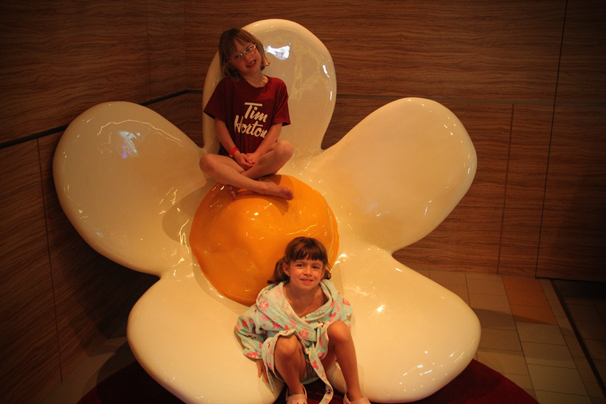 Our last full day on the boat was kind of a blur.  I know we got up in the morning (I remember that part), I'm pretty sure we had breakfast, and then we hung out in the pool for most of the day with Nichole's friends.  We had hoped for some pool volleyball, but that never took place, but all in all we spent the day relaxing and hanging out.  We did spend some time in the room packing and getting everything cleaned up (we had to have our bags packed and in the hallway before bed), had lunch with our friends from Miami/Colombia (extremely nice to meet you!  We WILL have to get together sometime in the future!) and then it felt like we were getting ready for supper.  I realized this trip that I don't need to eat as often as I do, but I do eat because Mandi and Nichole get hungry.  So I have been trying very hard to eat less at each meal.  This is nearly impossible to do, especially at our formal sit down supper, without leaving a mass of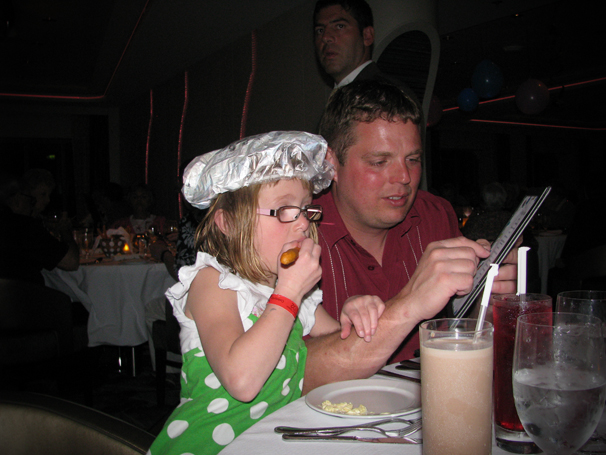 food behind, which I definitely wasn't raised to do!  We did enjoy our super lovely last supper with amazing service from Natalia and her crew, and Nichole got to visit with a couple of her new friends who had similar meal times, and we had one last late night in the tropics.  And in case you're wondering about the photos of Nichole, that IS a shower cap. it's a travel tradition, I guess.  Don't ask (cause I'm not really sure). We tried to get to bed early to be ready for an early breakfast and be ready to go, but of course these things never go as planned.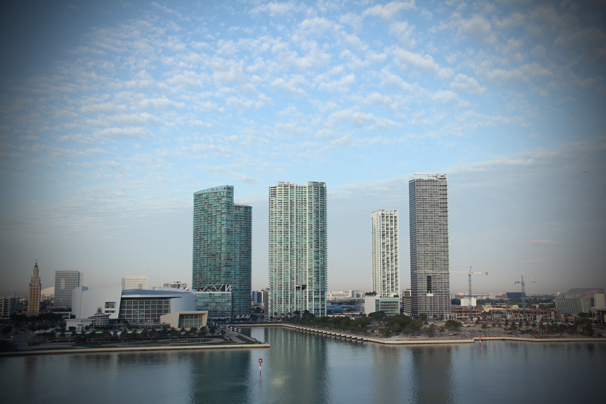 We got up at 0630 in order to be out of our room by 0700 (check-out time) and met everyone for breakfast.  From the patio in our room we watched a massive projection of what looked like cartoon aerobics displayed on the side of one of the ocean-side high-rises.  We didn't follow along.  Nichole was able to say her good-byes to her friends, I walked around getting some final shots from the deck, and we hurried to wait for our scheduled disembarkation.  We had been slotted for a 0930 check-out, but it was very obvious (not to mention nerve wracking) that everything was way behind.  We were definitely getting a bit concerned about missing our 1207 flight.  In the end, we did get off the boat with a few minutes to spare, caught a taxi (take note: a taxi to MIA is $3 more for a full car - 4 of us - then the cost of the airport shuttle for 1 person, and is way quicker, way more comfortable, and way less stressful.  ALWAYS take the cab.  Much easy.) and got to the airport in time for a rushed check in and a brief rest at our gate.  We barely had time to grab some snacks and food and get in line for our seats.  I know people always say "there's no rush, no need to be the first on", but if you want your carry-ons to be near your seat, it's good to get in ahead of the crowd.

We got on our flight on time, and we did get overhead stowage right at our seats, and we got organized and ready to go.  For our flights home, I purposefully booked seats at the back of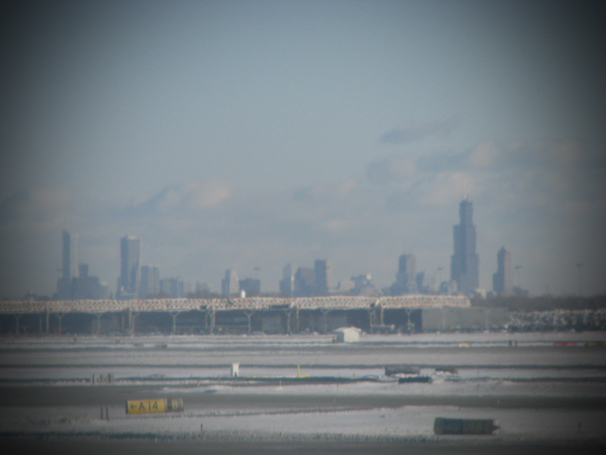 the plane so we didn't have as many people around us.  And this worked out for us in this regards, but I didn't realize that the notice "flight operated by United Express" when booking meant we were on a tiny little express jet with rear mounted engines.  The last time I remember a flight this noisy we had ascended above the drop zone in Westlock, and they had just opened the doors of the Cessna to let us out.  Thank God for Gramma!  She let us sleep while she and Nichole had a great time laughing and playing games all the way to MCO (Chicago).  So nice.  We landed for our layover and made our way through the airport.  At this point it was becoming obvious everyone was tired and getting cranky.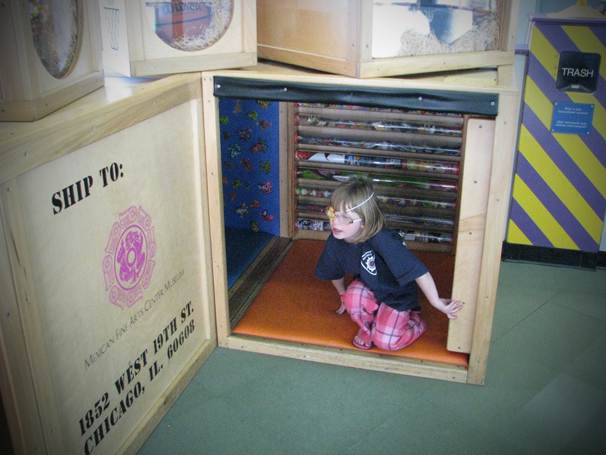 We came across a play center for kids, and had planned to let Nichole play for a bit, but due to time zone confusions we left much early then we needed to.  We went back through the underground tunnel Nichole loved so much, but most of the automatic pedways were out-of-order.  We got to the food court, found a nice place to relax, and took turns getting food.  After we had eaten and relaxed a bit, we made our way to our gate, and after our final bathroom breaks we got aboard our final flight home.

This flight started pretty good, but Nichole was becoming anxious, and I think this started her towards an upset stomach.  This, and with the 2 extra hours added for time zone crossing, the early start and the long day enroute, this trip was ending on a very unhappy note.  She did wait to through up until after we landed, which was appreciated, and her ears did finally clear, and we did eventually get our luggage (new lime green bags are super easy to spot, but also get super dirty super quick) and we did eventually get through all the check stops along the way.  Funny thing, Customs told us to make sure we claimed the bag of trail mix as "fruits" on our form, and Immigrations scoffed at us for claiming the bag of trail mix on our form.  Huh.  Nichole, although still feeling ill, was excited to see her Mom waiting in the airport to greet her.  After some Tim Horton's and much debate over how we were all getting home, Mandi went with Tara & Nichole in case she got sick & I went to get my car (boosted my dead battery) went back for my Mom and our bags and hit the road home.  One last piece of the trip.  After a pit stop in Airdire for some food (I didn't get airport Tim's), I got her home, picked up Mandi, said goodnight to Nichole and parked my car in the garage, thus ending our 2014 Winter travel.