Today was another scheduled morning start (Scuba diving @ 08:30), but I was already awake way before I needed to be. I was feeling sick. The last couple days I have had a sore throat, headache and have felt congested, and I think the by-product of my body fighting all that had found its way to my stomach and was planning on ruining a perfectly great, very hot day in St. Maarten. I wasn't impressed. I did get up and get ready though, and after eating a bit, I thought maybe it would pass.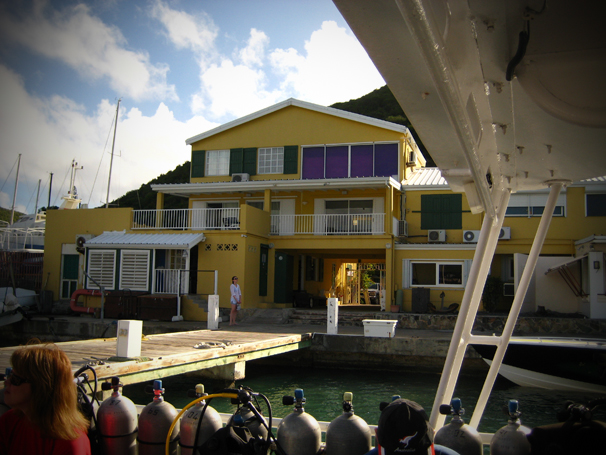 Troy and I had breakfast and made our way to the pier to meet up with our host.  After a short walk and a short bus ride, we were at our dive center. We got everything ready to go, I purchased a motion sickness pill for $1.50 and we set sail for our first stop. Our dives were both within view of our cruise ship and out in open water, and I'm realizing it doesn't take too many of those before they all blur together, and none are very special unless something unique happens. This time, nothing really unique happened.

We did our first dive to about 50' in moderately choppy water, and swam around through a maze of reef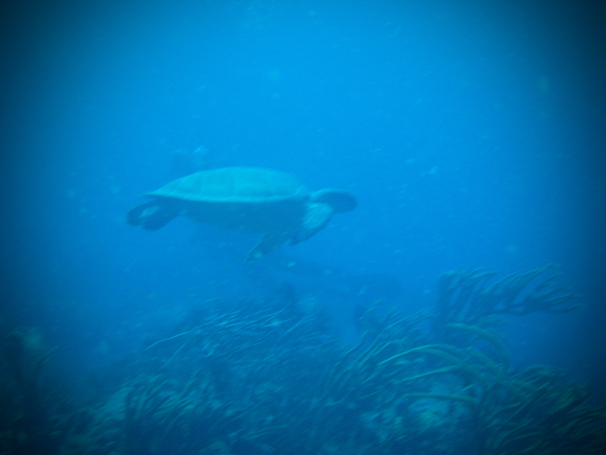 cuttings. It was very colourful, and every time I cleared my fogged up mask the visibility was great, and we did see (and photographed) a couple turtles and a fish or three, but all in all there wasn't much to be seen on that dive. Normally I would have done my best to find something fun to look at, or a tunnel or cave to poke around in, but with my constantly foggy mask, my upset stomach and my head cold (which made it extremely difficult to clear my right ear), I was honestly just waiting for the rest of the group to be done so I didn't have to wait up top for too long.

Once everyone was back in the boat (one poor guy was sicker than I was and was successful a number of times in feeding the local fish) I got my gear off and decided that the motion in the boat wasn't bothering me that bad. I questioned what we would be seeing on our next dive (I'm sure I remember reading something about a wreck dive) but they informed us it was another reef dive.  They did say that many years ago a wood ship had sunk here, so we would see an anchor and a rusty, hardly distinguishable canon. As sad as it was, I made the decision to skip it and stay up top. And in the end, the only thing I missed was a couple smaller reef sharks. And after being spoiled in the Bahamas, that didn't bother me too much feeling the way I felt. All things considered, based on the dive I did and the dive I heard about, diving here is comparable (at best) to diving anywhere else I've been in the Caribbean.

After our dive trip, I bought a T-shirt and we returned to the Reflection. Troy hurried to meet up with Lee & Lisa for some shopping while I came in to shower, rest and have lunch with Mandi, Nichole and Mom. I think the food really helped, but still didn't solve the issue altogether. Even now as I type my stomach is not happy. After lunch I really wanted to check out Maho beach (were the airplanes are almost within reach as they pass over the beach to the runway) but it was getting late, and I was told we may not even see any large planes until later in the evening, after our boat left dock. So Mandi & I left Nichole with Gramma and headed into town via the $7 per person water taxi.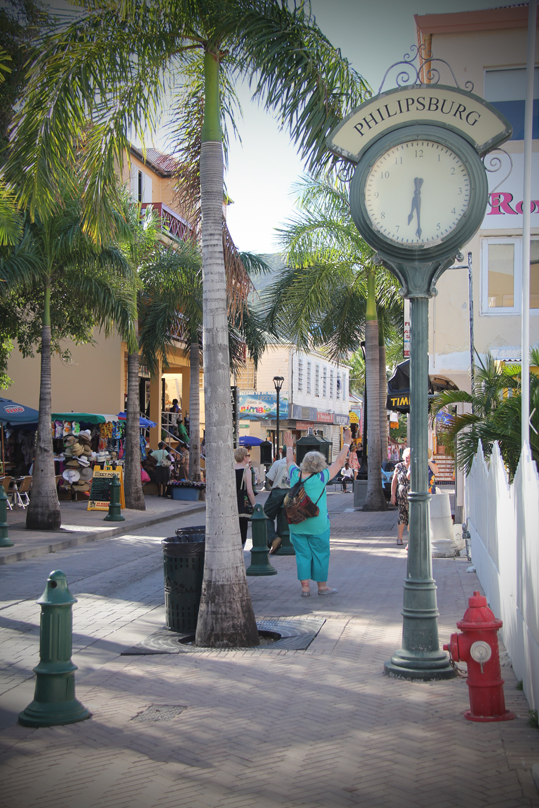 Our main goal was to locate a ring repair place to see about fixing my broken ring (did I mention it broke a few days ago for no apparent reason?) It didn't take long in the smouldering heat to find a place that would fix it. For a whopping $7! Yikes. They did what looked like a great job, so I paid them $10. Still together, so it appears to be worth it. We looked around for a bit, got a couple souvenirs and made our way back to the dock. We got on board, got cleaned up, met up with Gramma and Nichole and got ready to set off.

We made a quick decision to head to the aft deck on the 14th & 15th floors for some sail-away photos. Nichole played around in a nice patch of grass (really, real grass) that we had found before on floor 15 while we watched St. Maarten fade away into the distance. We then had to rush back to get ready for our 18:00 supper time, but once again, trying to do anything quick with a grumpy 6 year old is not easy, and we finally made an appearance about 15 minutes late. Supper was great again, the service fantastic, and to leave the evening on a high note Nichole and I left before desert to read a book and get ready for bed.

The night did finish positive, and as I finish typing this I hope to find myself having one of the longest stints in bed since the start of our travel. If my stomach allows it! And after that, only 2 more days at sea, one in the air, and home to school and work.