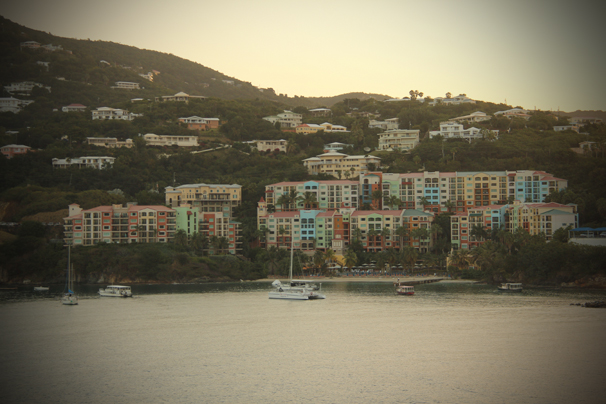 Today we woke up to the amazing coastline of St. Thomas.  We had to be up and out early, and this morning with a 6 year old that wasn't as easy as I had hoped. We did have time for a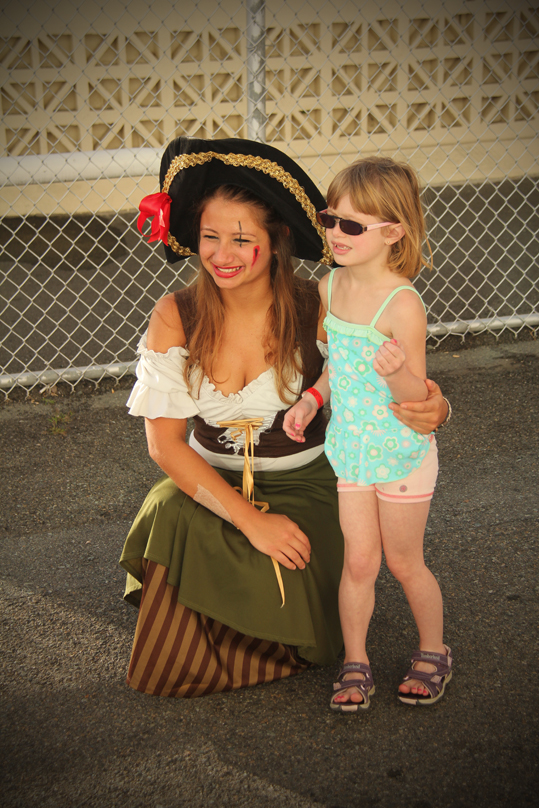 rushed breakfast before getting off the ship around 08:05, but had to run back on for our beach towels.  Just off the gangway we got some photos with a pirate and his wench, and still made our 08:30 meeting for our catamaran with "Stars and Stripes", and for the most part everything went really well.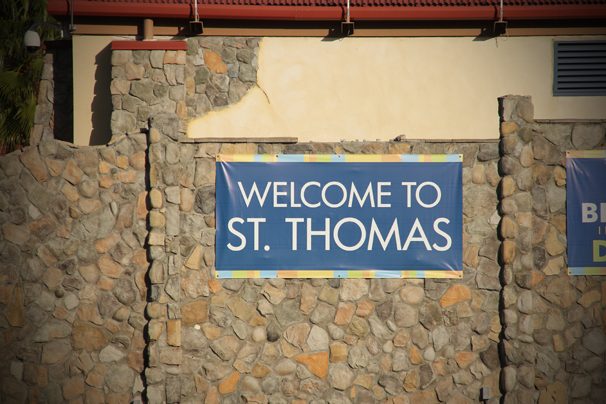 We had a great journey to Buck Island (Ship Wreck Cove), and had a wonderful trip back, and from what I hear the snorkeling was really good too! By the time I got Nichole ready to go, got her in the water, got her right back out of the water, got her dried off and calmed down (apparently she's not ready for snorkeling) and accepted Captain Kyle's generous offer to watch her while Mandi and I went out, we had a little more then enough time to circle our boat before getting packed up to go, and other than a couple steal wrecks and a few fish, that wasn't the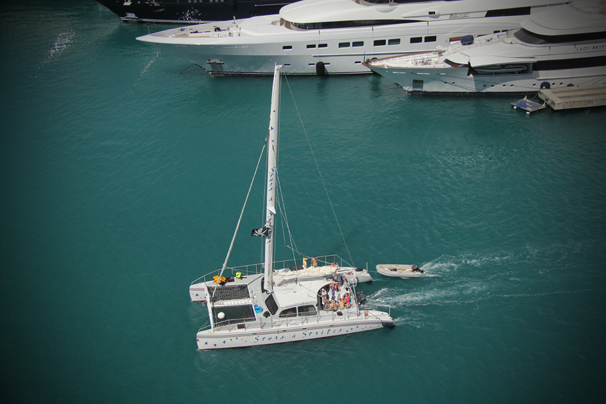 most exciting place to swim. Although from what I heard, the swimmers that got going on time were given a tour and an explanation of what they were seeing. It was a bit annoying, but Kyle and his crew, Val & Mel were extremely pleasant and helpful, and made the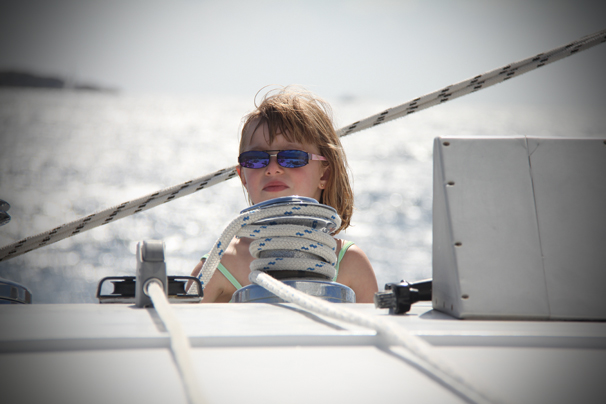 trip as good as it could have been. We bought a shirt each and left a $30 tip (I hope that's fair for 2 adults and a kid), and Nichole got to steer for a few minutes, which really made her day. There was one other girl her age as well who didn't last in the water any longer then Nichole, but she had someone with her that wasn't going in to sit with her while everyone else had their fun. I was happy to hear Mom (Gramma) really enjoyed it, so that is good.

After the catamaran we came back on board the Reflection to drop off our gear, grab some lunch and drop off Nichole at "Fun Factor". We ended up splitting away from the family for the afternoon and doing our own shopping, but found them and were joined by Mom. Even though, in the end, it sounded like we all went to the same places anyway. This time I had brought a pill bottle with me to collect some St Thomas sand, but we were having a hard time finding any beach close by. The guy at the Flip Flop store suggested we walk 5 minutes further around the bay and there would be a small patch of beach we could get sand at, but not really enjoy as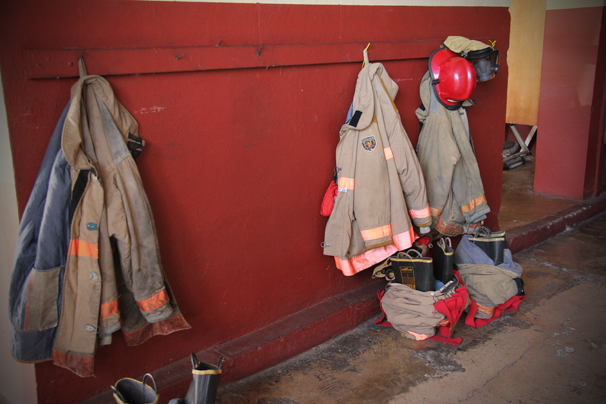 a beach. After about a 10 minute walk, we did find it, and he was right. Perfect for what I wanted. And, after watching an ambulance go by, I decided to ask a local where a fire dept. might be, and to my surprise there was one just around the corner, hardly out of sight! And, they had shirts for sale! So of course I got one.  And right across the street there was a massive bazaar. Great for grabbing a couple souvenirs and a colorful purse for Mandi.

We caught the $4 per person shuttle back to the port, checked out a couple more shops, realized that plain gold bands are no cheaper here (did I mention my wedding ring broke a couple days ago? Cracked clean through, no idea how or why) then at home, but did buy a pair of souvenir drumsticks. We got back in line for our boat, got back on, got organized, got Nichole from the kids club (she claimed to be sick, didn't look like it!) and came back to the room. We had thought we would rest for a few minutes before getting some homework done, but she wouldn't have it. She through a fit, and we pretty much did nothing until our 18:00 reservation for supper.

Once again, supper was great, and after we ate we got Nichole back to the room and into bed before asking Gramma to baby-sit for a bit while we checked out the cruises night life. We went for ice cream (self made banana splits once someone brought out some bananas) in the restaurant, learnt some Hungarian from one of the table staff, had a refresher on my Kenyan, and checked out the pool deck. Pretty dead, so we carried onto the forward of the boat. We checked out Karaoke, then stopped in at the theatre to see what was happening.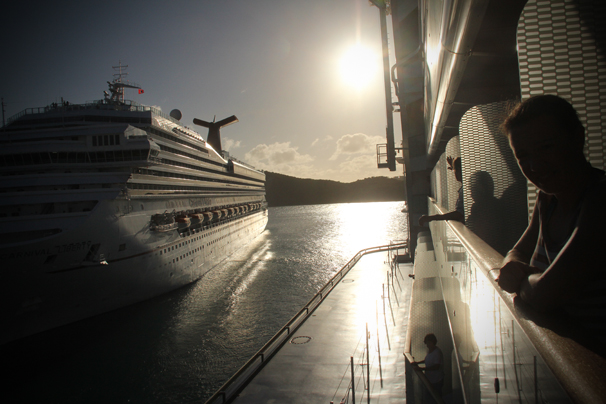 Now, I've been pretty spoiled with cruises over the last few years, but this one is remarkably different in many ways, as I've said before. Tonight I was reminded once again I was on a normal cruise when, as we entered the apparently full theater, the first thing we noticed where all the power carts and walkers parked at the top of the stairs. Although I'm sure many would have loved them on Ships N Dip and The Rock Boat, I don't remember seeing even one. We also witnessed a lady scolding the man with her for wandering to far ahead with her cane. Come on, man, wise up! After that we made our way back to our room, I typed this, Mandi fell asleep reading, and this is how our day ended. Up in 8 hours for Scuba diving and a stroll down "Airport Beach" Have a good night, yall!