This morning I woke up with a sore throat and a headache, and I wasn't ready for the day. We all attempted to go to the Opus dining hall for brunch, but contrary to what Natalia told us last night, there was a dress code in effect, and Lee's sleeveless shirt didn't cut it. So Lee and Lisa went else where while the rest of us wasted our time at the fancy buffet with ice sculptures and the likes. I think the Ocean View buffet would have been more my style, with all the same food and a fraction of the line ups.

Before brunch I went to the shop to get some Halls and something for my headache, as well as stopping at the shore excursions desk with a $10 coupon for my dive trip to be credited to my bill. The Halls helped a bit, but after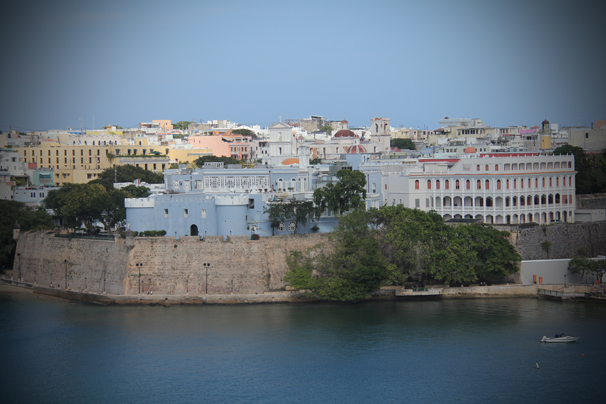 brunch I decided to go have a steam shower and attempt to clear my head. It helped a bit, but I still opted out of the mid day activities and slept for a few hours while everyone else hung out by the pool.

Around 14:00 current time I got up to go for a pre-port meal with everyone else, and just missed some great shots of Old Town San Juan (I did get a few as we docked). I did eat a bit, and we got ready to go to land. After a bit of back and forth, and some more waiting, we got out to the dock, and Nichole lost it. She was hot, the sun was bright, she wanted in the water, nothing could make her happy. So after a bit of thought, I took her to the Fun Factory for the afternoon. This was probably for the best as going store-to-store with Troy, Lee & Lisa was no travel.

Finally,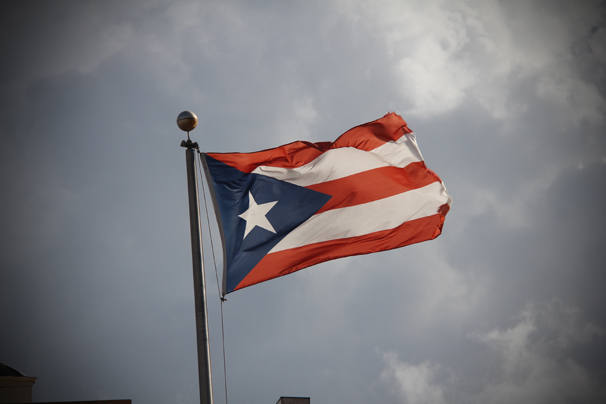 while Troy was shopping for a purse, Mandi, Mom & I split off to get a closer look at the Fort. We didn't actually get into the fort, but we had a good walk around the walls. On the way, I bought a bottle of water from a small shop that looked like a private house selling beverages to passerby's in order to have something to put some sand in. There are more cats here then people, I think! Wow. In the end, we got some pictures, pet some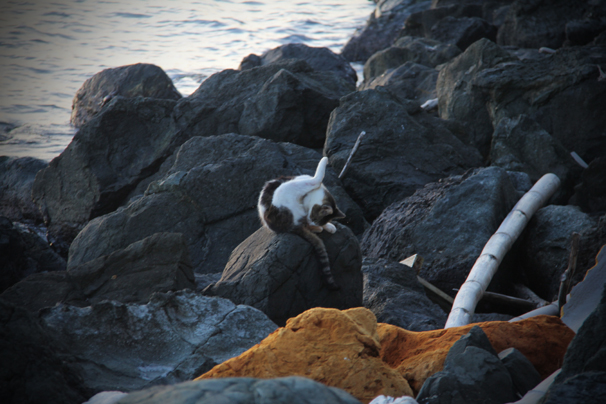 cats, met some people, got some sand, and bought some souvenirs.

As the sun finished going down and the town got dark, we made our way back the ship. Mom was looking everywhere for a mailbox, and finally stopped in to the Sheraton to inquire, and they put her post cards in their mailbox for her. So easy. The mailboxes we did find seemed bolted shut. As we tried one, some other girls commented that they all were like that. Maybe it's due to today being "Martin Luther King Jr" day. Not sure.  I have read that in "Warm Climate Cultures" such as Puerto Rico, it is considered extremely embarrassing not to be able to assist someone with things like directions or finding amenities in your own town, so it is likely all of the wrong directions we were given were given knowing they were wrong, but giving wrong directions to tourists was better then admitting that they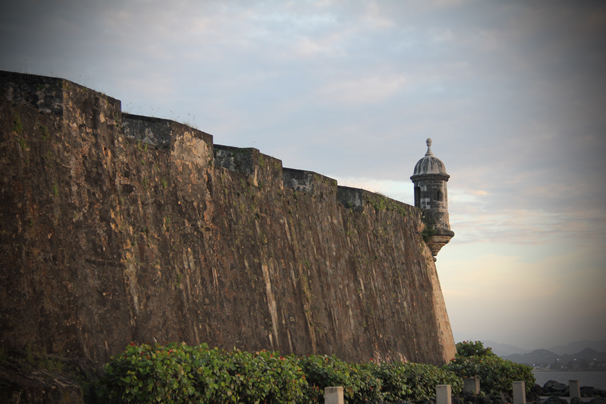 just didn't know.

We got back on the boat, got Nichole (who had a fun afternoon by the sounds of it), paid the $12 for the 2 hour "Supper While At Port" fee that they charge, and came back to the room. We finally agreed to go for supper with Mom. We did check out our designated table, but (probably for the better, time-wise) that option was out, so we made our way to the buffet and had a quick meal.

After, back at the room we met up with Troy, Lee & Lisa who had just got back on board and were heading for supper now. We got into our room and got Nichole to bed, and got some other things organized. Tomorrow will be an early morning on the catamaran, so good sleep tonight is a must. I got some pictures as we set sail, checked out some of the evening entertainment (found Lee and Troy taking part in Battle Of The Sexes), got my gear ready for snorkeling, and finally to bed like my daughter and wife before me!