This morning Mandi and I got up and got ready while Nichole and Grandma toured around the hotel. We went for breakfast with Mom, Troy, Lee & Lisa at the local Dunkin Donuts before heading to Wal-Mart to pick up some last minute items, including a watch for diving as I had forgotten mine at home (and Mandi got one as well for everyday use). Troy gifted me a pair of sunglasses last night as he had bought 2 new ones, so that was one less thing I needed, but we did pick up a clip-on set for Nichole while at Wal-Mart. We also got some cream for my bug bites. I really need those to go away. We grabbed (and paid for) a few other odds and ends, and headed to MIA to return our rental car. On the way, we happened to stop at a light beside a taxi with people we new! They were my Mom, my 2 brothers and my brother's girlfriend! Funny that we would happen to come up beside them getting onto the freeway. It didn't take us too long to drop our car off and catch the shuttle to the port, but it would have been quicker if Thrifty Rent-A-Car hadn't added extra insurance, drop charge and other fees onto my bill. They did remove the insurance and $100 drop charge for us relatively painlessly, which was nice, but it got us to the port later then we wanted and put us in the middle of a huge crowd of pre-cruisers.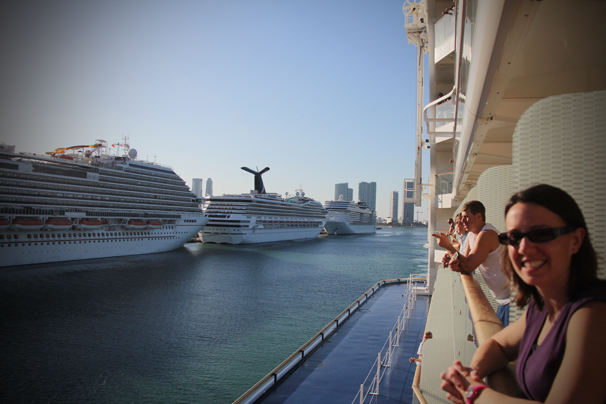 After going through all the lines and checkpoints, we were happy to finally be aboard the Celebrity Reflection. We were able to get into our rooms right away (balcony room 7336 for us), only to learn that the toilets weren't flushing. We called Guest Services and they informed us they were fixing a main line plumbing issue. Things were moving properly after a couple hours. We met up with everyone else (our rooms are all side-by-side), and talked about the plans for the evening. We had boarded by about 13:30, got organized, received our luggage, went for a quick walk and before we new it it was almost 15:30 and time for our muster drill.

Once that was over, we booked a family catamaran for the first part of our day in St. Thomas, and Troy & I booked our Scuba Dives for our morning in St. Maarten. We then inquired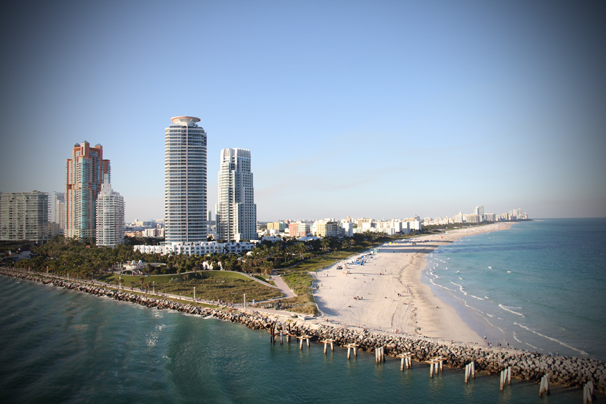 about splitting Troy & Mom up, but were told it was a sold out cruise. Wow, good on them I guess, we'll see how the week goes. Around this time, our ship started moving out of port, so I came back to the room to get some pictures. We were on the east side of the ship (the starboard side, in this case) so the view from our room was docked ships, sea-cans and the goings-ons of an industrial port on a Saturday afternoon, so we got our swimming stuff and went up top and port side to get some shots of Miami Beach as we sailed off into the opposite of sunset (east and away from it).

We played in the pool until 17:00 before getting back to our rooms to get ready for supper. Tonight the dress code was supposed to be "Smart Casual" (pants, shoes, collar shirt) but due to some delays in luggage was changed to "relaxed". We did try to fit the "Smart Casual" description, but I quickly realized I had forgotten my extra pants, and the pair I wore on the plane had torn beyond repair so I chucked them while at Disney World. We went to our assigned table for our first supper, and while in line I checked at guest services about the level of which dining attire was enforced, and when they learnt that I forgot my pants, they offered me a free tux rental for dinner tomorrow. Nice. The hard part was I had to fill out my sizing on the rental form. Good thing I tried on a suit at Cross Iron Mills a week ago!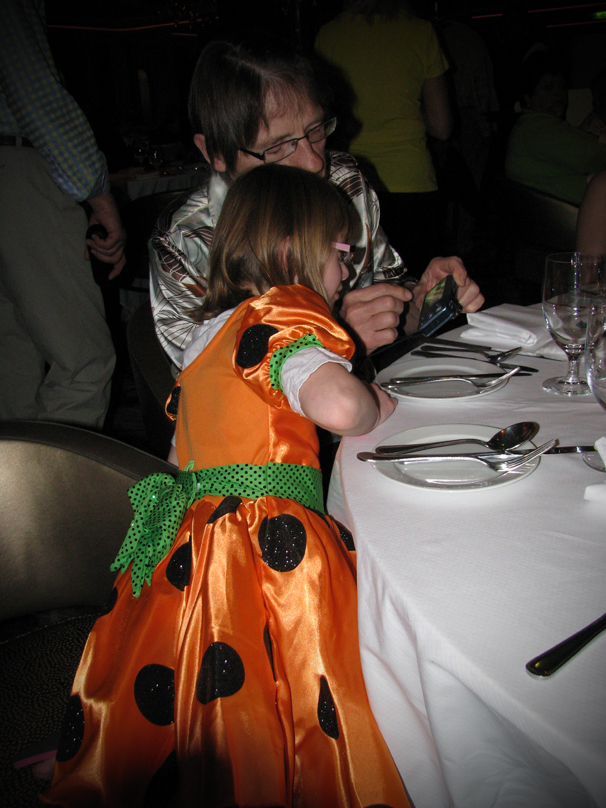 We were seated at our table (250 in the Opus hall on the 3rd floor) which will be our table for the whole cruise (same time, place and service staff). We managed to get Nichole to wear her new orange and black Minnie Mouse dress, which was a huge hit among diners and staff alike. Natalia will be our waitress this week (she taught me that "spaseeba?" is Russian for thank you) and Philip from the Philippines is our bartender, so I get to use "salamont" when thanking him, I learnt that a few cruises ago, and I can't remember what our wine-guy's name is, but he brings the wine so I don't really have to thank him for much at all. The food was really good (I think I'm getting spoiled, or maybe I'm just not a food connoisseur) so I ate my fill. Nichole didn't eat much as normal, and on the whole, the meal went pretty well. After supper we made our way back to our room and got ready for bed.

Nichole spent a good 30 minutes tucking her sheets in on her bunk bed, only to have me untuck it all to get her in it. She was exceptionally cranky tonight, so it took us longer then I wanted to get her ready for the night, but when she actually laid her head down and closed her eyes she was out in seconds. After such a whirlwind day and crazy evening, I was happy to take a breather and "some time away from the group" (code for bathroom break) only to realize that my wedding ring was cracked right through on the back. I'm pretty sure last time it was fixed they warned me that it was very thin and if it broke again it wouldn't be fixable without adding more money in gold then what a new one would cost, so I think it's time to check out other options (for a ring, I mean). What a way to end the day. So, tomorrow I use a rental tux for supper, and Monday I'll be pants shopping in Porto Rico. Due to lack of free internet, this will be posted after the trip is over, but like I said, this is more for me than for you.