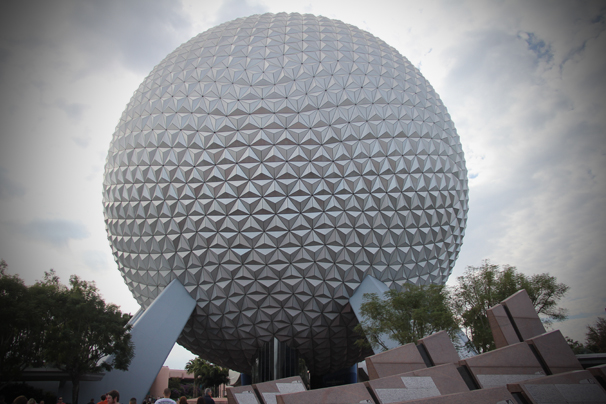 Today, after getting breakfast at our hotel food court, we caught the bus to Epcot Centre by 10:00. We made our way to our first Fast Pass time at the Chevrolet Test Track. As we crossed the bridge to the gate, we were greeted by Krista (although her name tag said "Miyeko") who seemed more interested in talking to us than most cast members that say hi in passing. She then proceeded to invite us up to the VIP area of the Test Track, and informed us she had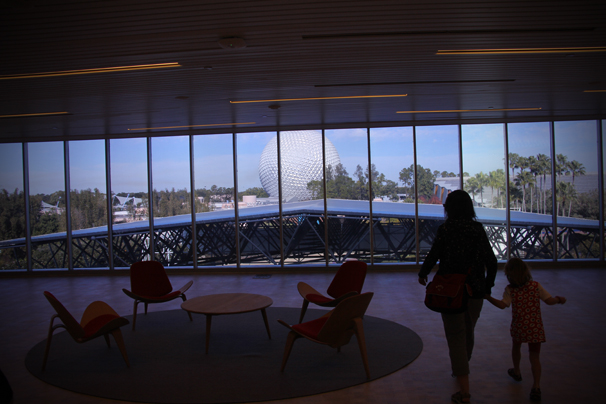 chosen us as her guests of the day. This was really cool, as we got to go up to an office-type area, used a computer to design our vehicles, and then get right into the front of the line. She was extremely nice, and made our morning even more fantastic than normal. Nichole enjoyed the ride so much she wanted to go again. We got back in line, and Krista saw us and asked us how it was. We told her we were going again, and she magically made our expired Fast Passes valid once again. And she gave us front-of-line passes for any ride in Epcot! We ended up not needing those, and gave them away as we left the park, but wow! Really cool.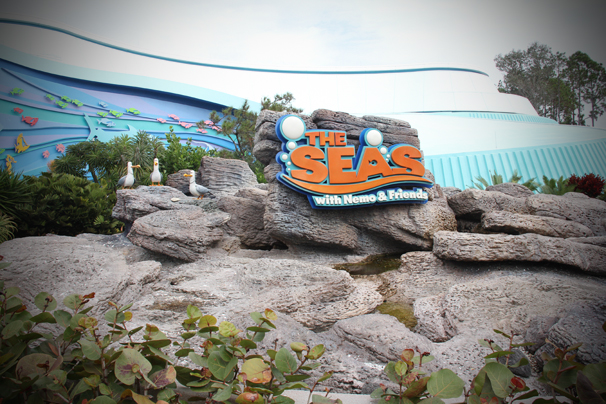 After that we made our way to "The Seas With Nemo & Friends" for a tour through the ocean looking for Nemo, who was always one step ahead of us. Nichole enjoyed it mostly, so that was good. After checking out the live aquariums, and watching the manatees for a few minutes, we then started our long walk across the park to Norway for our lunch with the Princesses.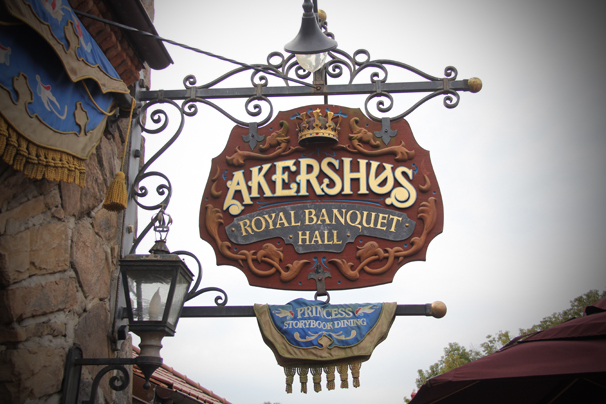 We found our restaurant (Akershus Royal Banquet Hall) and got in line. Once inside, they put us in a little room and all the princess lined up to get me to sign their books and take pictures with me. Kind of, except the opposite. As we entered, Princess Belle was set up for signing and photos, and as we were seated we spotted Snow White, Sleeping Beauty, Ariel and Jasmine carousing around the room. We placed our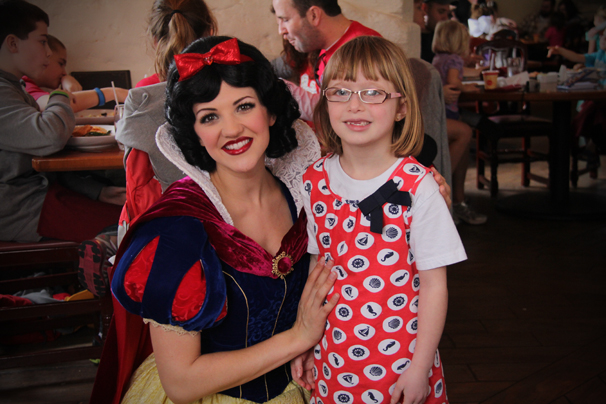 order, got our buffet, and tried to eat. But it's hard to eat when you have a 6 year old girl at your table and Disney Princesses keep stopping by. Nichole loved it. She got all kinds of hugs and signatures, and she got to take her patch off for most of it (that was her favourite part, I think!) We did finally get her to eat a bit, and after she did the conga line around the room we were ready to carry on with our day.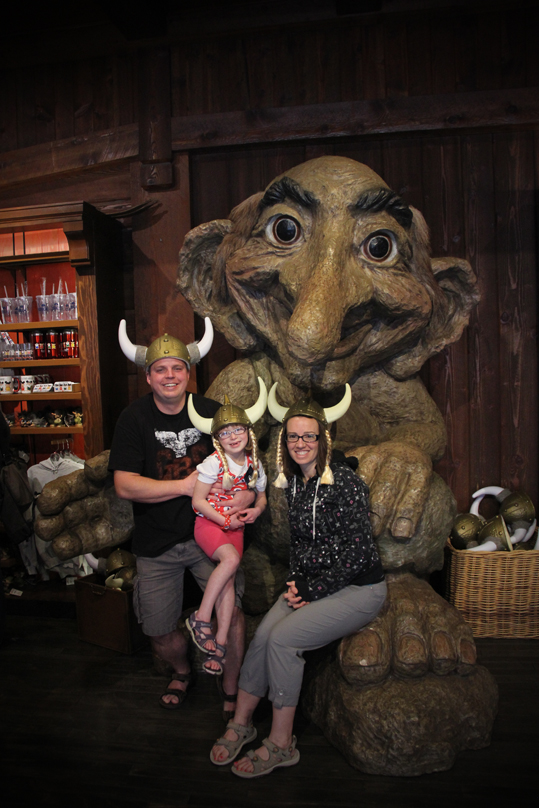 Just outside of the restaurant we found the Maelstrom Viking cruise adventure. It was pretty cool. I would recommend it compared to everything else we did in Epcot. That and the Test Track. From there we carried on our hike around the globe, taking pictures along the way, until we got to the border of Canada and the UK (you know the place). We noticed a large red solid gate in front of which Hook and Mr. Smee were dancing around excitedly, when all of a sudden a Cast Member flung open the gates to reveal a wonder of all wonders. It was like Christmas all over again! Behind the gate, dancing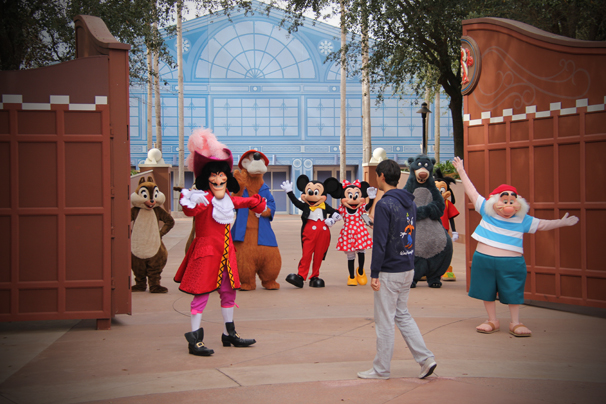 and prancing were (let me list them for you) Chip, Dale, Brer Bear, Mickey, Minnie, Baloo, Max, Goofy, and some guy that kept getting in the way of my pictures. (I think he was on the outside of the gate when it opened.) I urged Nichole to go say hi to Mickey & Minnie, and as she approached them they each took her by a hand and walked with her as all the characters took a spot along the hidden pathway. Even once the gate was open, people didn't come pouring in as our location was still off the beaten path enough to be slightly secluded. A little hole in the wall between Canada and the UK that nobody really paid attention to. It was our little secret paradise. Nichole went from one character to another with little or no lines for the most part, filling up her autograph book, enjoying all kinds of hugs and serenades, and getting a tonne of great pics! Finally, as we were finishing off our last of the visits, they had closed the gates and called in all the characters. So we carried on, finishing our trek back to Future World.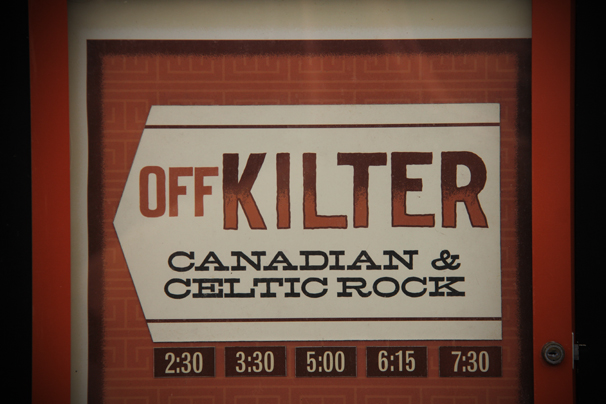 As we went through "Canada", we saw the band "Off Kilter" performing our Country's finest Celtic music. Not bad. Not sure they represented Canada as a whole, but there was a lot of Canadian hockey shirts in the shop, so I think that about covered it. I feel represented, at least.

On the way out, we took the tour through the big silver golf ball (Spaceship Earth) which is always educational (Nichole kept asking "Is that Jesus?" and, "Where's Moses" every time we saw wax figures that looked Egyptian or had beards.) She enjoyed it. We got out of the park around 15:30, caught our bus to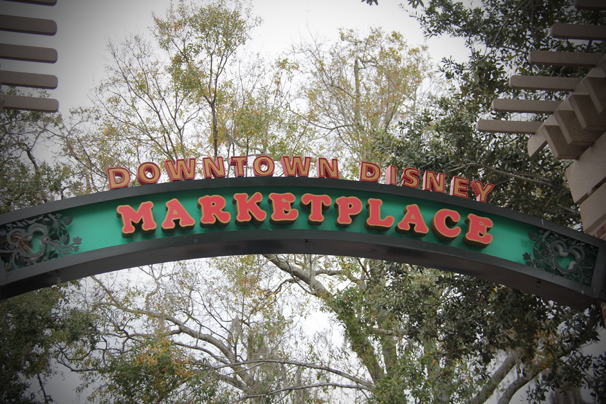 our room to change and drop off some stuff before getting another bus to Downtown Disney. We didn't have a lot of time by this point, so we checked out some shops, bought some souvenirs and gifts and clothes and shirts and dresses and clothes. And clothes. And after we bought some clothes we found our bus stop and headed back to our hotel. We ate pizza in the Food Court while Nichole watched some Disney Jr. on TV. Finally back at our room Nichole did some homework (we are a wee bit behind on that stuff, oops) and we got ready for bed.

We went through our meals from the week to see how our dining plan worked out, and although we are out of meals (except for our 2 remaining Character Meals tomorrow) our plan really paid off, I would recommend it. I think most of our Table Service meals would have put us back $70 - $120 each if we had to pay. We did have to tip however, and that added up, but I guess it was all worth it in the end (for Nichole for sure). We might give her a few years, and 4 and a half inches before considering a revisit. But, now it's bed time. Big finale tomorrow at Magic Kingdom! I bet the Princess are already lining up for me.