Today we got up at 0700 in order to get a full day in at Animal Kingdom. After getting ready, getting fed and getting the bus, we made it to the park around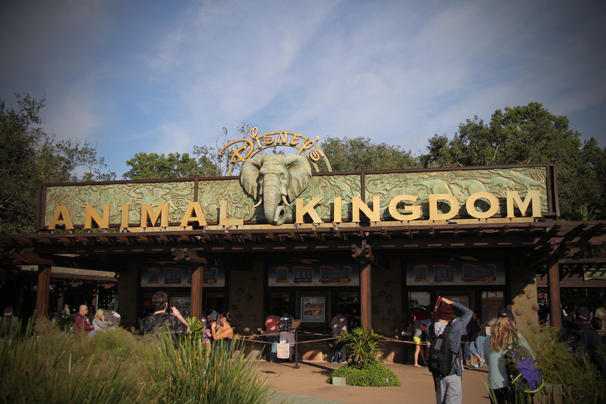 09:59 and 1 second, approximately. We headed into the park and made our way to the far corner to catch our truck for the Kilimanjaro Safaris. This time we had a Fast Pass! It was a perfect first ride, the site-seeing was fantastic, but my little budding photographer kept fighting me for the good shots, I admit I had to push her out of the way a couple times. A competitive thing, good photography is!  I remembered this trek from my last trip here and once again, I was really glad I did it.  They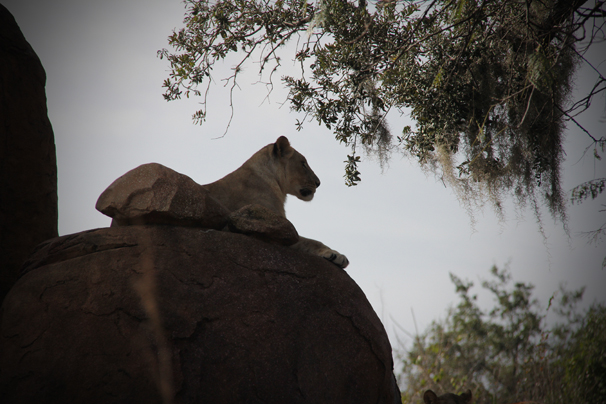 do such a great job making you feel like you are right there in the animal's natural habitat.  I highly recommend it!

After completing our first adventure of the day, and after finding a bathroom and water fountain, we made our way back to catch the Wildlife Express. This took us to Rafiki's Planet Watch, where we played with some farm animals and learnt about the similarities and differences between African Pygmy hedgehogs and Canadian Porcupines. Nichole volunteered to help demonstrate how porcupines can be trained, which I think was one of her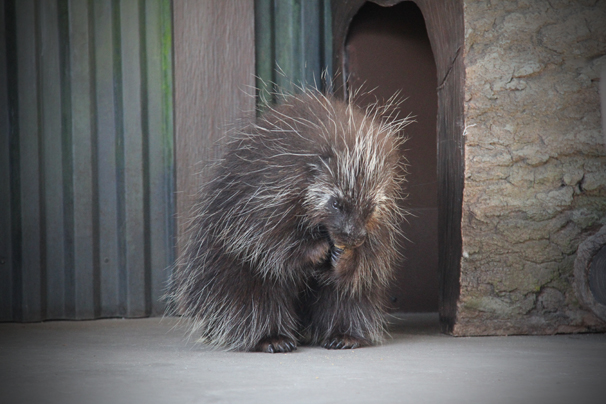 highlights of the day.  The Wildlife Express is great if you want to pet some goats and sheep, and learn some neat things about animals.  It was fun.

I would guess her number one highlight of the trip so far would be our next adventure, but on route we stopped at the Tusker House because Mandi needs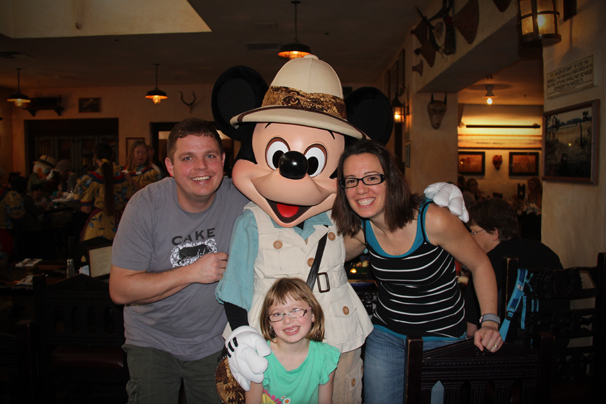 food a few times each day and Nichole & I need Disney Characters to sign our book. I chose the Tusker House because the map said it was a buffet, but I wasn't sure we would get in because the map said Character Lunch. But they put us on the list, and within a few minutes we were being seated. It was an amazing spread, and with Donald, Daisy, Goofy and Mickey, it was quite a meal. We got some great photos, some names in the book, and full tummies.  If you have a Disney Dining Plan, or have recently won the lottery, I would highly recommend eating here (we have a Disney Dining Plan).

We left there and continued on to the Kali River Rapids. We dropped off our dry goods at the locker stacks and used our Fast Passes to get to our rafts. There was no one in the regular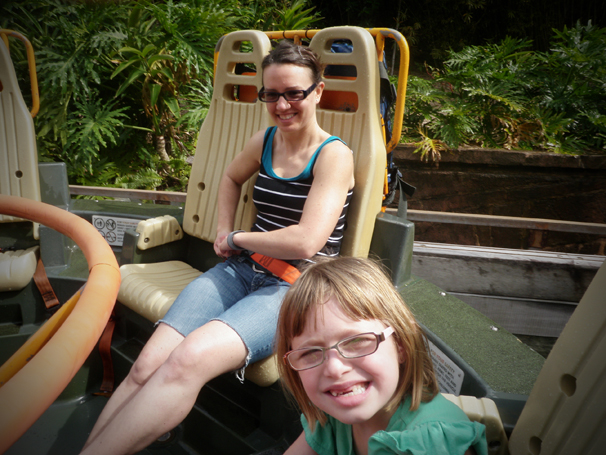 line, but we used our Fast Passes nonetheless. We got on our raft with our new temporary friends, got going up the lift, and Nichole started getting scared. We made our way around a few bends in the "river" before coming to the "waterfall". Our circular raft turned just right so that Nichole and I had our backs to the action, which ultimately made it so we couldn't see how wet we were about to get. We got really wet. Nichole took a few minutes to let it all "sink in", and then the crying started. It was impossible not to laugh, so I didn't even try, but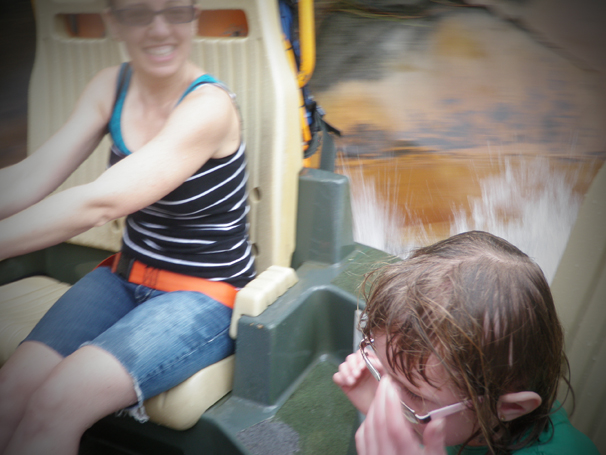 instead tried very hard to get her into the spirit of it all. And with the encouragement of Mandi and our new friends from Ottawa, she finally broke and started enjoying it, and by the end of the trip she was ready to go again. We were already soaked, so I figured I might as well go along with her while she was having fun. After round 2 we were thoroughly soaked, and ready for some more action.

We checked the horizon for the white peaks of Mount Everest and made our way there. Those of us over 44 inches would have had no trouble getting onto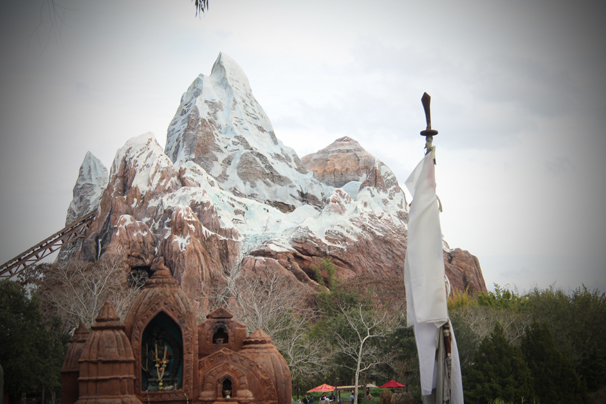 Expedition Everest (Legend of the Forbidden Mountain) but those of us that are 43 and ½ had a harder time. Boy, was she upset. She even went and tried the puppy-dog eyes and the pretty-pleases with the Cast Members, but to no avail. So we let Mandi go on her own while we played some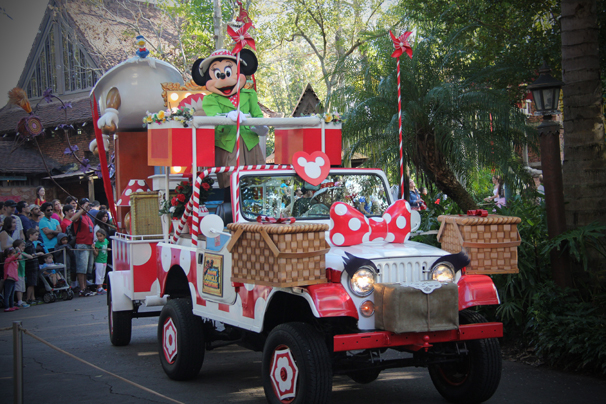 games and looked around. Mandi recommended I take a go at it, so after we took in Mickey's Jungle Jammin' Parade, I made my way back.  It was pretty cool, there are a lot of surprises, and a cool theme, but it was over very quickly.

And while I enjoyed the thrill of the ride, Nichole and Mandi took in the sites in Dinoland while they waited. After we met up, Nichole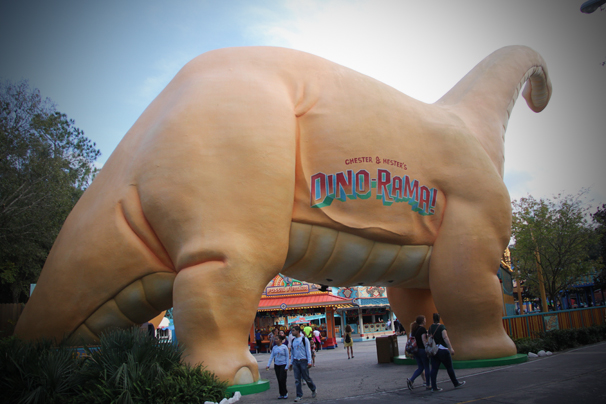 went to play for a few minutes in the "Bone Yard", then we headed (at Nichole's request) to the DINOSAUR ride. We were advised it was scary, and we warned her many times, but she insisted. So, we went through our time-travel orientation and got into our time-travelling vehicle. It was entertaining, we had to go back and recover a dinosaur, but Nichole, I think, nearly wet herself. She kept asking "is it almost over?" We finished the ride, checked out some shops, did some last minute site-seeing, and made our way out to the Rainforest Café as the park closed behind us.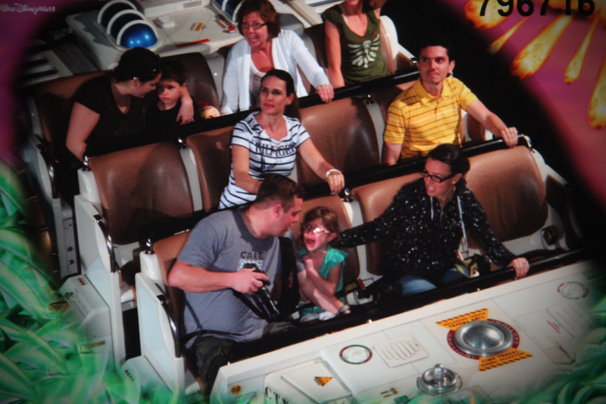 We only had to wait a few minutes for our table, and with the amazing atmosphere of the RFC, plus the great shop attached to it, we had a great meal. The food was tastey, desert was fantastic, and after it was all over I walked away with some left over chicken, a new pair of swim trunks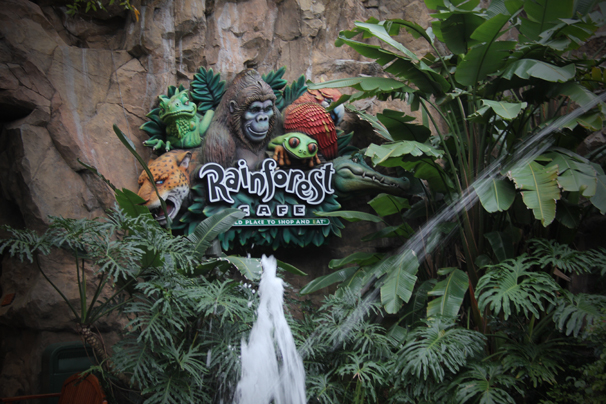 (that ended up being a size to tight) and a nice shirt from the shop.

We caught what I guessed to be the last bus out and got back to our room around 1930. We had promised Nichole a swim in the pool directly out our door, so because she needed a bath anyway we let her have her swim provided she didn't need to change. So, still in her jean-shorts and t-shirt, she played in the pool for a few minutes before showering and getting ready for bed. Once again, as if she had a tiring day, she was out before the lights. Mandi just retired moments ago, shortly after Nichole woke up with what I assume was something profound to tell us. But after a couple attempts to find the words she needed to say, I asked her if she wanted to go back to sleep. She said, "no, that's OK", put her head down and was out once again.

I really had hoped to show you some shots of all the great times we've been having, and I will attempt to get some on Facebook sometime soon, but I am unable to quickly throw them on my photo site (turbo.ca) because someone at FUNIO (my hosting people) decided to change enable-mbstring=shared, which makes it so exif_read_data only displays the first character rather than the entire string. So I'm sure you can clearly see it's clearly their fault. Clearly. Anyway, tomorrow I'll tell you all about our day at Disney's Hollywood Park. Until then, I'm going to bed.