So our first day in Disney and we decided to change the plan. We got to bed so late that we ended up sleeping in. By the time we got ready and had breakfast at our resort, it was almost 1100. We figured we might as well do a half day at Magic Kingdom today as we had planned on going back anyway. This way we get our full days at the other parks.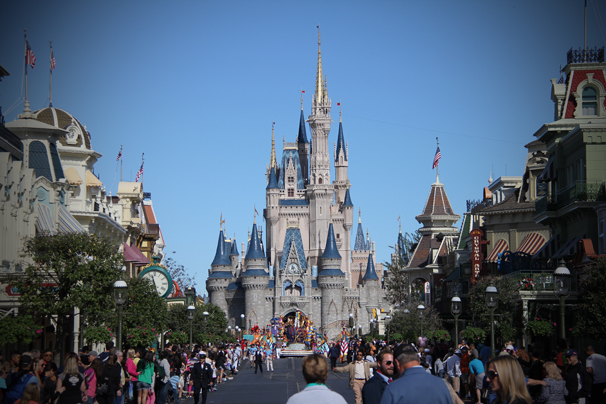 We caught the bus for the park sometime around 1100 (with no watch or phones, we really had a hard time keeping track of time so far) and were walking through the gates before 1130. 

When we arrived, we wanted to get a Disney-themed scrap/photo/signature book for all the princess I was hoping to meet, but I ended up giving it to Nichole. While Mandi was making friends with the cashier (remind me to tell you about the Disney Magic Bands) I took Nichole out front to watch a few floats go by as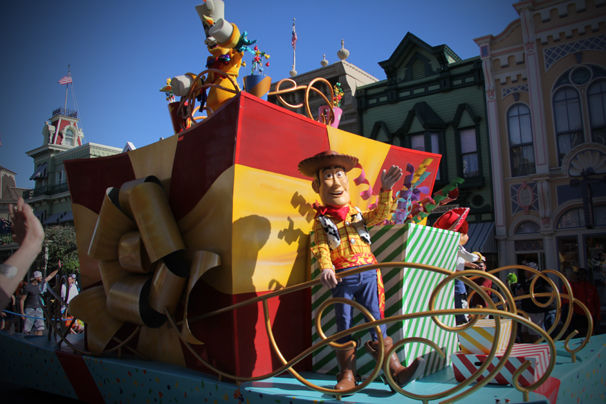 part of some random mid-day parade.

Once the small parade had ended, we went back inside the shop to see how Mandi was doing. She was trying to pay for our book using her fancy Magic Bands. Let me tell you about Magic Bands! When you book a Disney travel, they offer you free Magic Bands, and by email instruct you to "Choose and customize your Magic Bands!". I tried to follow the instructions, but was only able to confirm my Canadian address and accept my shipping address for the bands to be our Disney hotel. Upon check-in, the "cast member" helping us first grabbed and opened the wrong box (good thing I realized no one in my party was Zoe), then got our box and was surprised our bands were the default grey color. I explained the website wouldn't let me choose, he informed me I did it wrong. Thanks, buddy. Whatever, we got our bands. Nichole hated it. We tried to convince her, and got her to wear it for half of the day today, but she still wines and complains non stop about it, so I think I'll give up on that. Upon getting into the park, the member that "greeted" us was very impatient when he realized we were new to the whole "Magic Band" thing, and we later realized he neglected to offer Nichole her "First Visit" badge (she did get her United Air badge, though, forgot about that!). So now Mandi is trying to pay for her purchase by placing her band against the sensor as instructed by the not-so-fluent-in-English cast member. It turned blue. "Make it turn Green" he told her. So she did. "Put in your PIN now". "PIN pad says "Thank you" with no PIN entered", I says to him. "Enter PIN NOW" he replies. This went back and forth 2 or 3 times before I finally scanned my band, it went green, I entered my PIN and took my receipt. We headed out.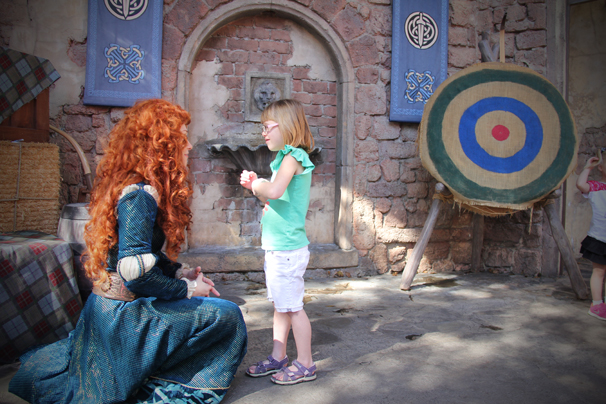 We wandered around until we came across Marida and her courtyard. The line was quick, they had coloring for the kids while waiting in her courtyard, and the cast members were all very happy and easy to deal with. A really great experience. Nichole got a hug and a signature (obviously the authentic Merida signature) and we headed out in search of Ariel and her grotto.

On the way we found some distractions. First was the "Mr Sanderz" house, by the "Pooh" ride. We had a peak at the house, but skipped the ride due to the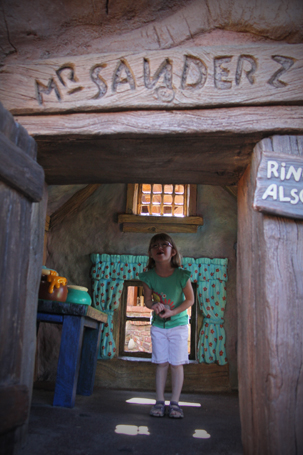 line. Yeeks. But Nichole did want a ride, so we crossed the road to the Dumbo tent. We played around under the Big Top, got some pictures of Nichole and some kids doing what appeared to be pole dancing (that's a circus skill, I assume - I decided not to share these) before hopping into one of the cars and going in circles for a few minutes on "Dumbo the Flying Elephant".

Right outside the exit was the entrance to "Barnstormer", a fun little roller-coaster type plane ride. After the 15 minute line we enjoyed the 30 second flight, and we were back out on the street.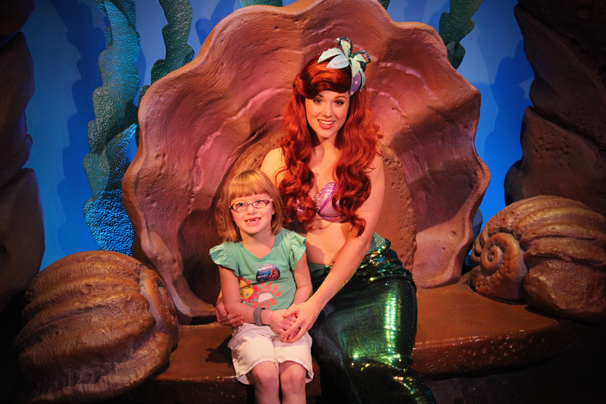 After a pit stop at the bathrooms and the gift shop for Nichole's new hat, we found Ariel's grotto hiding behind some construction. Nichole wanted to take the tour before meeting her most beloved princess, so we slid over to take the "Under the Sea Journey With The Little Mermaid". We then got in the longest line yet, this one to meet Ariel herself in all her splendor. Nichole was star-struck and didn't even know where to begin. It all went well, and as soon as we got out of the cave she said "Can we go see Sleeping Beauty?" Right.

We never did find her (she must have been having a snooze) but instead got on the Steam Train at Fantasy Land Station and headed around the park to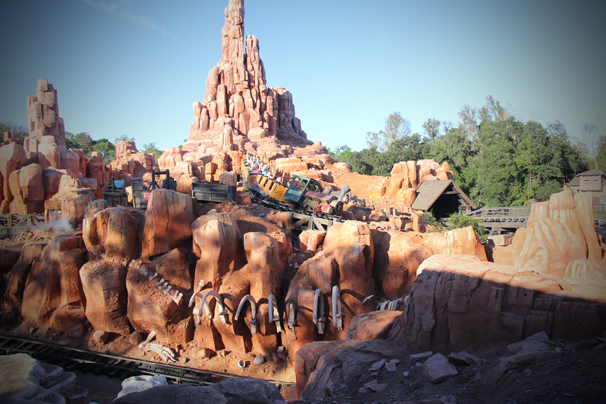 Frontierland to take a ride on the "Big Thunder Mountain Rail". Nichole loved it, even the 40 minute queue was fun for her with all the blowing stuff up and making stuff make noise. Worth the wait, but I found out later (back at our hotel) that we were entitled 3 free "Fast Passes" that we didn't know about, that would have been nice to have. We know now! (for the rest of our trip).

Mandi was about ready to die of hunger, so we headed to the restaurant strip (passing the "under refurbishment" Splash Mountain) for an early supper. After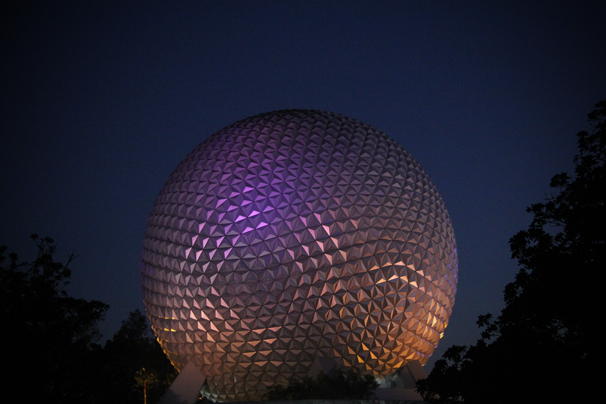 that, we started heading out, passing on the $10 balloons that Nichole so badly wanted. We made it to the gates, and decide to take the Tram to Epcot Center and catch the bus to our resort from there. Something to do, and it was fun. Back at our hotel we did some planning for the next few days, booking some dining reservations with some Disney Characters as well as some Fast-Pass times, got Mandi a snack, and headed back to the room. We got ready for bed, Nichole fell asleep great even with the lights on (must have had a busy day), Mandi did shortly after, and I might soon as well.

Check out some photos atturbo.ca/travel.

And have a great night!